Boys' & Girls' Champs: A Digital Revolution in Sports Coverage?
Boys' & Girls' Champs: A Digital Revolution in Sports Coverage?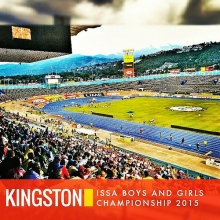 Boys & Girls Champs
The air was electric. Everyone brought their A game — not only the thousands of athletes from 238 high schools across the island but also the 70 member television production team responsible for providing ISSA, organizers of Boys & Girls Champs, with a broadcast signal complete with graphics produced to international standard, commentary and mini-features.
This event is reportedly the largest staging of school boy and girl athletics anywhere in the world. Its National Stadium venue in Jamaica boasts seated crowds of up to 35,000. Thousands more remain unseated, fulfilling various roles and providing a multitude of services such as medical and fire emergency support and food concessionaires.
ISSA, rights holders of the inter-secondary schools championship, lovingly called 'Champs', an event around in some form since 1910, could not have chosen a better year to launch an unprecedented approach to television coverage of the five-day event.
Coming on the successes of Usain Bolt, ShellyAnn Fraser, Asafa Powell, Veronica Campbell-Brown and Yohan Blake and further back with Arthur Wint, Herb McKenley and Merlene Ottey, track and field is big business in Jamaica. Nowadays Champs is where stardom begins for many poor Jamaicans. This is good for the country, given the discipline and commitment to hard work that is required for athletic stardom.
ISSA Goes Digital – HDTV
Instead of relying on a television station to cover the event for broadcast and provide ISSA with some content, the rights holders contracted an independent television production company to provide multi-camera coverage in high-definition (HD) format. Of note is that television stations in Jamaica are not yet able to broadcast in digital, far less high-definition, format. It was therefore a bold and forward-thinking move by ISSA.
The Champs rights holders now own five days of television content in a digital format never before produced for any athletics championship in Jamaica. With the phasing out of analogue TV worldwide and switch-over to digital, this digital asset owned by ISSA is 'worth its weight in gold' if properly managed. Let me tell you why.
A Record Number of Records!
The most common expressions heard via local media as Champs went into over-drive on its last 2 days were, "records are being broken", "the track is fast and so are the athletes". It was true. Since 2009 record-smashing usually amounted to 13 for each Champs year. In 2010 it climbed to 15, the highly informative @MVPTrackClub told us via Twitter. This year, 2013, was exceptional with thirty (30) records smashed.
This was a bountiful year. It made ISSA's decision to go the route of coverage in HD even more apropos since this format is of a considerably higher resolution and better sound quality than standard definition. It will make Champs content more saleable overseas, especially in places where Digital TV or better yet HDTV (the gold standard of Digital TV) is de rigueur. The world is going digital and so too must Jamaica if we intend to compete in telling our own stories in our own ways. This is what ISSA chose to do.
Telling Jamaican Stories via Champs Coverage
Make no bones about it, television coverage of any event, and no less so sports, it about using the narrative form. Shot selection and composition, the aesthetics and content of graphical displays, what hosts, analysts and commentators choose to comment on are all about story-telling.
When Hubert Lawrence, co-author of Champs 100 as well as The Power and the Glory, "a book that chronicles Jamaica's participation in track and field athletics since…1930", speaks, he does so from a uniquely Jamaican perspective, along with deep knowledge of the subject matter of Champs. Lawrence was a key commentator for ISSA's TV coverage.
Digital to the World
Although local TV stations seem unlikely to migrate to digital by 2015, as originally proposed by the Broadcasting Commission of Jamaica, creating content on this platform is highly desirable for those wishing to compete on the global stage. ISSA with its Champs 2013 product is clearly ahead of the pack.
Several foreign TV crews, including Japanese and Nigerian among others, were visible throughout the Nation Stadium. Several entities, not only foreign TV stations but also sponsors, sporting organizations, other companies, schools and importantly athletes and their families are no doubt eager for DVD/Blu-ray copies of Champs 2013. The narratives of this year's performance is the stuff of which legends are made and in the face of tough times Jamaica needs all the 'good news' stories she can muster.
Let me confess to being more than impressed with Champs 2013. In the interest of transparency let me also confess that the five-day event was covered by the company of which I am part-owner, Phase Three Productions Ltd., content creators of Champs 2013 on behalf of ISSA. The signals were sent to others for live broadcast on television as well as live streaming via the Internet.
Networked graphics, timing and data-based systems, multi-channel replay servers, tapeless file-based HD recorders and fibre connections to LED displays for enhanced in-venue experience were all a part of this year's Champs coverage by an entirely Jamaican crew. They were the lucky ones to tell the story of this historic year.
What if Jamaica were to experience a digital revolution in sports coverage? ISSA has got things stated with track and field, will others join in? Sports such as cricket, boxing, netball and football are key aspects of the culture and lifestyle of Jamaicans. Their stories are waiting to be told in digital format to the world – for prosperity and, importantly, for posterity. So, let's go digital to the world!