Jamaican Women and the 2016 Election
Jamaican Women and the 2016 Election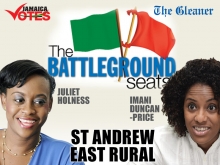 Not a Loser?
On Election Day February 25th when asked by a female reporter what if she lost, Jamaica's female Prime Minister retorted, "Do I look like a loser?" No, PM Simpson-Miller did not lose her seat. In fact her victory margin of over ten thousand votes in 2011 grew by more than four hundred.
But yes, the Former PM was a "loser" as her party lost control of the Government of Jamaica. That brazen young reporter's question is no doubt now ricocheting throughout the Former PM's People's National Party.  At 70 years of age Mrs. Simpson-Miller's political future must be under consideration.
Twenty four (24) women entered the race to become parliamentarians – 13 on a PNP ticket and 11 for the Jamaica Labour Party (JLP). Seven of the JLP women were winners. Only four of those from the PNP made it through. Those four had each won before and in 2011 had secured huge winning margins ranging from just over 2,000 to well over 10,000 votes. They each represented strong PNP constituencies.
In a previous article I had indicated that three of the 13 female PNP candidates did not stand a ghost of a chance, given the JLP stalwarts they were up against. Another four of those PNP women were listed among the 14 'battleground seats', with three of them being newcomers. None of the four of them won.
Women Running Against Women
With three sets of women vying against women, two sets in battleground seats, it was inevitable that not all of the 24 female candidates could win. Incumbent Natalie Neita-Headley of the PNP was secure in her expected victory against newcomer Kerensia Morrison of the JLP. Neita-Headley in bedrock PNP St. Catherine North Central, had secured a 2,051 winning margin in 2011. This time her margin was reduced to 1,269.
Up in tourism capital, St. James West Central, second time aspirant, Marlene Malahoo-Forte of the JLP was in a race with PNP incumbent Sharon Ffolkes-Abrahams. In 2011 former PM, PJ Patterson had stumped on Folkes-Abrahams's behalf. This time former PM, Bruce Golding was doing the same for Malahoo-Forte. Marlene beat Ffolkes-Abrahams by 1,279 votes.
Then there was the epic showdown between Juliet Holness and Imani Duncan-Price. Juliet secured a win few expected and led by 690 votes in a constituency previously held by the PNP with a winning margin of 259 in 2011. She partly stopped the creation of a Duncan Dynasty in local politics. Rudyard Spencer of the JLP did the rest by trumping Imani's sister Patricia by almost 1,000 votes.
Historic Husband & Wife Team
Perhaps the most noteworthy win for a woman in elections 2016 is that of Juliet Holness, wife of former Opposition Leader Andrew Holness, now newly Prime Minister designate. Not only did Juliet pull off what many regard as a David win over Goliath but, as the other half in the Holness's matrimonial home, she has helped to create history in Jamaican politics.
Juliet, a highly respected accountant, has ably demonstrated her ability and capacity for hard work and political savvy. Will her efforts be rewarded?
The Caribbean has previously seen a husband and wife team in former PM Patrick Manning of Trinidad and Tobago and his wife Hazel. PM Manning appointed Hazel to the Senate and then to his Cabinet. Juliet Holness, having campaigned and won her seat in Parliament, is in a stronger position than Hazel Manning. Cries of nepotism aside, I would like to see this hard-working woman assigned a portfolio. Women can work and raise families and husbands, Prime Ministers included, must be expected to play their role.
A New Day for Women (and Young Men)
In general, women, both those representing the JLP and the PNP, can stand tall in the knowledge of their admirable performance in elections 2016. After all, today, Jamaica has eleven (11) female parliamentarians, about 17.5 percent of the 63 seats. So overall, women came out as winners in elections 2016.
Based on my checks, there has never been a time in Jamaica when so many women entered the race for parliament? And to be gender-neutral, was there ever a time when so many newcomers to representational politics ended up securing victory? Well done young politicians, females and males, you've signaled a new day not just for women but also for young men in the politics of Jamaica. Now go forth and be the change this country so badly needs.